Sexual Harassment E-training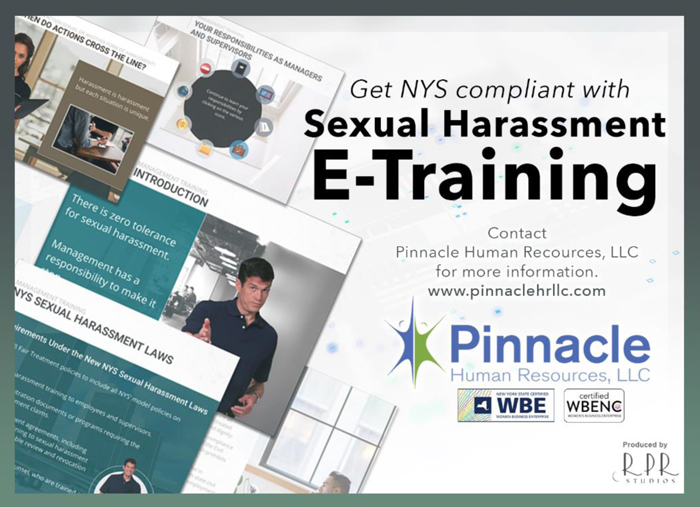 Every employer in New York State is required to adopt a sexual harassment prevention policy. In order to assist our Members with the implementation of this policy, we have teamed up with Pinnacle HR to offer a discounted online sexual harassment training subscription.
This cost-saving benefit is exclusive to our Chamber Members and includes:
Two sexual harassment programs-
one program designed for employees with supervisory duties and one program designed for staff. (Programs are designed to deliver a different message to each of these groups)
Sexual harassment training in compliance with Section 201-g of the Labor Law of the State of New York.
Unlimited use of the program from any web browser.
Employees see their scores and have contact information to call for questions or concerns.
Standard system reports indicating usage and participant training scores. The employer receives a summary report of employees who have completed training and their corresponding scores.
How to register for the training:
Click on the REGISTER NOW button below.
Fill out the employer information section on Pinnacle HR's website.
Select the option that fits your company size based on your anticipated usage during the next 12 months.
Provide credit card payment information; a receipt will be mailed to you.
Read and agree to the Terms and Conditions Agreement. (This acts as your contract with Pinnacle HR)
Once registered:
You will be contacted by Pinnacle HR within three business days.
You can designate an appointed contact person to receive login information and instructions to provide to all employees on how to access the online trainings.
You, or your appointed contact person will receive a separate login to view a report with a list of attendees that have completed the course.
Direct all employees to the online portal to complete the online training.
If you have questions during the registration process, contact Karin Keller at Pinnacle HR (518) 486-8152.
Pinnacle Human Resources, LLC - Q&A for employers on required sexual harassment prevention training
Listen to Rose Miller, President of Pinnacle Human Resources, LLC, answer the above questions regarding the required sexual harassment prevention training. (Audio only)