Leadership Cayuga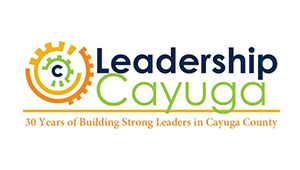 Our mission is to empower diverse individuals with the knowledge, skills, and inspiration to successfully achieve leadership roles while developing a collective resource and problem-solving network to address present and future community needs and challenges.
Leadership Cayuga is for you if…
You have a strong interest in and commitment to your community;
You are committed to your personal leadership development;
You anticipate an active role in business and community activities;
You wish to gain access to a network of business, government, community leaders and resources;
You believe change can be anticipated, managed and directed for the betterment of Cayuga County.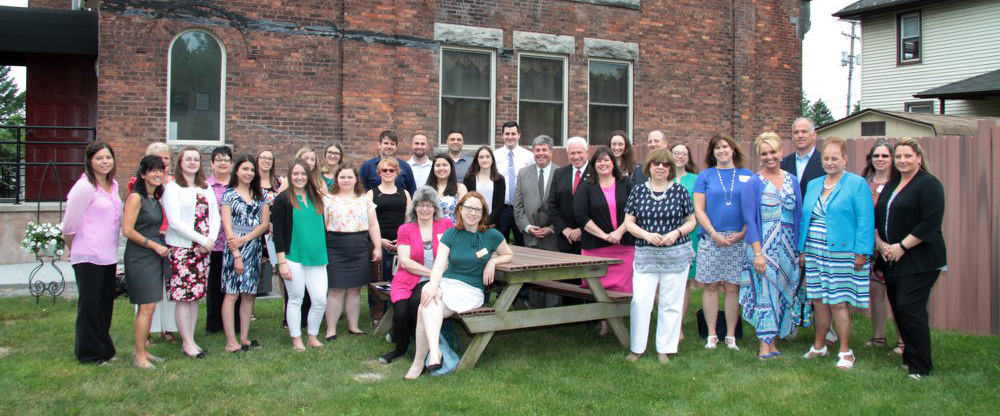 The Leadership Challenge
One measure of a community's greatness is the voluntary
contribution of its leaders. Since 1989, Leadership Cayuga has prided itself on graduating dedicated community leaders. A program conducted by the Cayuga County Chamber of Commerce, Leadership Cayuga stimulates public-minded thinking and increases the base of informed, capable leaders committed to using their talents to add to our community's vitality. The program's more than 600 alumni are among the most informed volunteers in Cayuga County.
Participation in Leadership Cayuga
Leadership Cayuga participants are comprised of small business owners, public servants, corporate executives, social service agency professionals, area youth, and other concerned members of the community.
Special Message about Leadership Cayuga Youth
If you know a young person with leadership potential, consider nominating him or her for admission to the program.  We can follow up with individual students and their families over the summer. This is a unique out-of-classroom experience for a student.
Please call the Cayuga County Chamber of Commerce if you are interested.  Student applications may be accepted through August.
"About Leadership Cayuga for Youth"
Leadership Cayuga Program
Each Leadership Cayuga program opens with a retreat followed by a series of sessions held from September to June.
The diverse collection of seminars and training sessions are designed to be highly interactive, stimulating and thought-provoking. Class sessions are held in locations appropriate to the topic and instruction presents a varied and diverse approach to problem-solving.
The curriculum includes topics such as:
Economic Development
Education
Human Services
Legal/Justice System
Government
Philanthropy & Stewardship
Local History
Nonprofit Board Service and Volunteerism
Personal Leadership Skills:

Public Speaking
Interpersonal Communication
Emotional Intelligence
Project Management
Tuition & Financial Assistance
Tuition for Leadership Cayuga is $1200. Cayuga County Chamber of Commerce members receive a $100 discount on tuition. Tuition covers the orientation retreat, all program costs including two Chamber Luncheons, the county-wide bus tour, all written materials, and the graduation ceremony.
Tuition may be paid by the participant, his or her business, or a combination of both, and must be received prior to the program start date. A limited number of partial scholarships are available.
For more information about Leadership Cayuga please contact the Leadership Cayuga coordinator at 315-252-7291 or email leadership@cayugacountychamber.com for more information about the program.

Annual Community Leadership Award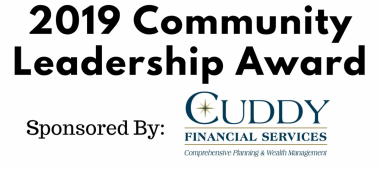 The Cayuga County Chamber of Commerce holds an annual Business Awards Luncheon, which recognizes business leaders for their outstanding contributions to the economy and overall development of Cayuga County. During this event, Leadership Cayuga presents the Community Leadership Award given to an alum.
2019 Community Leadership Award Nomination Form
(Open to Leadership Cayuga alumni 1989-2016)
Past Recipients:
Melina Carnicelli -95
Ann Petrus -97
Eleanor Beck -98
Andrea Seamans -99
Cynthia Aikman -03
Ed Ide Jr – 04
John Nicandri – 05
Laura Coburn – 06
Guy Cosentino – 07
Nelsa Selover – 08
Katie Moran – 09
Sean Lattimore – 10
Jill Fandrich – 11
Kelly Buck – 12
Laurel Ullyette -13
Debby McCormick -14
Janice Sanders -15
Michelle Barber -16
Jenny Haines -17
Stephanie DeVito – 18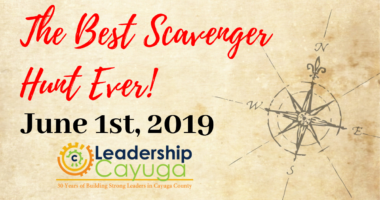 The Best Scavenger Hunt Ever! is coming Saturday, June 1st.  REGISTER ONLINE
This year the Scavenger Hunt will take teams throughout the city, answering questions, taking selfies or gathering collectibles as instructed.
This year's hunt will begin and end at the Tinker's Guild.
Proceeds will benefit the Leadership Cayuga Scholarship Fund. Leadership Cayuga is a community-based program that is open to emerging leaders who live or work in Cayuga County. Over 600 people have completed the program and continue to serve their communities in various roles from volunteering on non-profit boards to heads of local business, major manufacturing, economic development, government, education, and countless other agencies.
Your packet, which will be given to you at check-in, will include all the information needed to complete the scavenger hunt and you will be allotted sufficient time to complete the route.
Awards will be given for First, Second and Third place, as well as best costume, and some surprises! Each team must have at least two members but can have as many as your vehicle can safely hold. One vehicle = one team.
Food and beverage coupons for the post-party will be included in your check-in packet, and additional food may also be purchased.
Stay posted to our Facebook Page for updates.