Members in the News – Wednesday Morning Roundtable resumes September 2021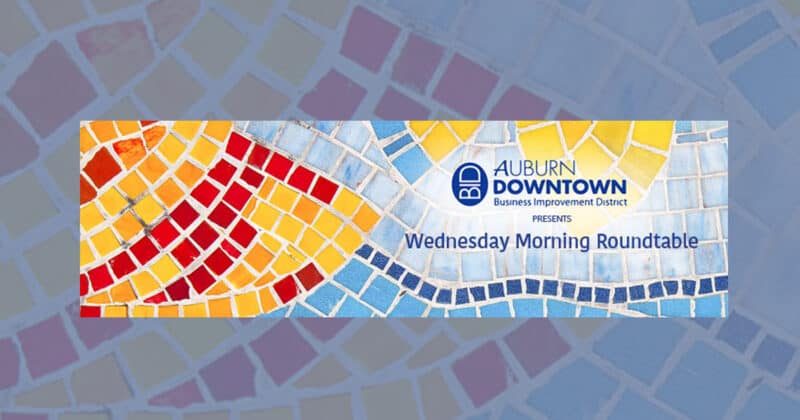 The Wednesday Morning Roundtable (WMRT) is a monthly civic forum that provides a dynamic platform to educate members about important community topics. In its 12th year, the WMRT will continue their in-person programs the third Wednesday of the month, from September 2021 through May 2022.
The WMRT has a new partner and venue location at Westminster Presbyterian Church. Their tranquil sanctuary space seats well over 600 people socially distanced. Westminster's Social Room will be staged for refreshments, socializing and networking. Another bonus of the new central location is its close proximity to the City's Downtown Parking Garage, offering ample covered parking that is free for two hours.
The WMRT has also added a private Facebook page, for Roundtable members only. This page will post videos of their programs, so if you can't attend, you can watch content later at your convenience.
The program format is similar to year's past, with a brief introduction, followed by a 35-minute presentation and a 15-minute Q & A. If you have any program ideas, please contact the Roundtable Steering Committee. The following topics are slated for the Fall:
September 15   County – State – Federal Redistricting
October 20        Auburn City Council Candidate Forum
Wednesday Morning Roundtable encourages a diverse membership. Much of the value stems from the mix of participants and viewpoints. Members share the following criteria: contribute to community improvement and endeavors; have interest in a broad range of discussion topics; will use and share information gained with others.
Thanks to additional financial support, the WMRT is able to maintain the same membership fee. Members are asked to contribute $85 to participate in the 2021 – 2022 programs. Dues are non-refundable and non-transferable. The Roundtable is a program of the Auburn Downtown BID, with generous support from Tompkins Trust Company. Information and payments are requested as soon as possible, with a soft deadline of August 31st.
To join or renew membership on the BID website, and pay by credit card please click here.
By mail, please provide the info below with a check for $85 made out to the Auburn Downtown Partnership and send to: Auburn Downtown BID, 25 South Street, Auburn, NY 13021.
Name:
Business/Organization/Affiliation:
E-mail:
Phone:
For more information, please contact jessekline31@msn.com. To visit the Roundtable's Facebook page please click here.
« View News Posts