June 2021 – Letter from Education & Resource Coordinator
Educational Seminars
The Chamber offers educational seminars for members and their employees on a variety of topics.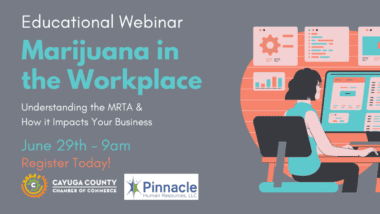 Educational Webinar: Marijuna in the Workplace: Understanding the MRTA & How it Affects Your Business
Tuesday June 29 9:00am
The Cayuga County Chamber of Commerce is pleased to host guest speaker, Rose Miller of Pinnacle Human Resources, LLC to help educate businesses in our region on the impacts of the recently passed Marijuana Regulation and Taxation Act. Register Today…
Finger Lakes Grant Information Center
The Finger Lakes Grant Information Center is OPEN for your grant research needs. If you've never used the Foundation Directory database to research grant money for your organization, you'll need an orientation to the program. Call 315-252-7291 or email Jessica at jwrench@cayugacountychamber.com to set up a time to come in.
Are you receiving our emails? It's filled with information on upcoming events, open grants and local funding opportunities. Click here to sign up! 
Leadership Cayuga 

Congratulations to the Leadership Cayuga Class of 2021! We ended the class year in April with an All County Tour and the class was able to see a dairy farm, the beautiful Inns of Aurora, the Historic Howland House and 19C Farm Museum, Long Point State Park, Sterling Nature Center, and visit the Fly By Night Cookie Company. Then, in May, we graduated the 32nd class of Leadership Cayuga into the community. This class is inquisitive, excited about local opportunities and ready to jump right into our community organizations. See the gallery below for a glimpse of our year.
« View News Posts