2022 Business Leader Award Winner: MEDENT
MEDENT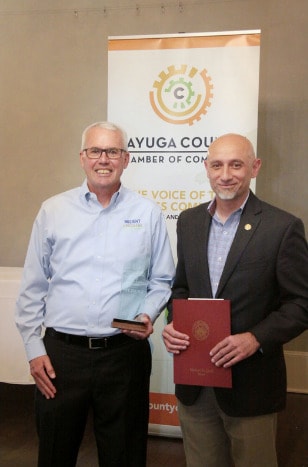 MEDENT is the receipt of the 2022 Business Leader Award. This award honors businesses that continually invest in Cayuga County & have shown leadership by taking an active role in our community.
It all began in 1968 where the focus was on A/R billing and payroll, eventually leading to Community Computer Services Inc. forming in Auburn NY. Thirteen years later, in 1981 customers asked for Computer Service to create a program for medical and dental offices…MEDENT was born!
MEDENT is a software development and services company focused on automating medical practices. Offering an "All-In-One" EMR/EHR, Patient Portal & Practice Management system providing a high-level of interoperability and automation. Voted #1 EHR in the Nation, Today MEDENT serves more than 11,000 providers and offers EHR, practice management, patient engagement and telehealth features.
Congratulations to our 2022 Business Leader Award Winner!
« View News Posts