United Way of Cayuga County announces Countywide Personal Care Drive and Day of Caring
Many families and individuals need personal care items often not covered by assistance programs. To help fill this need, the United Way of Cayuga County is partnering with the community again this year and their Countywide Personal Care Drive will run from July 8th – August 4th!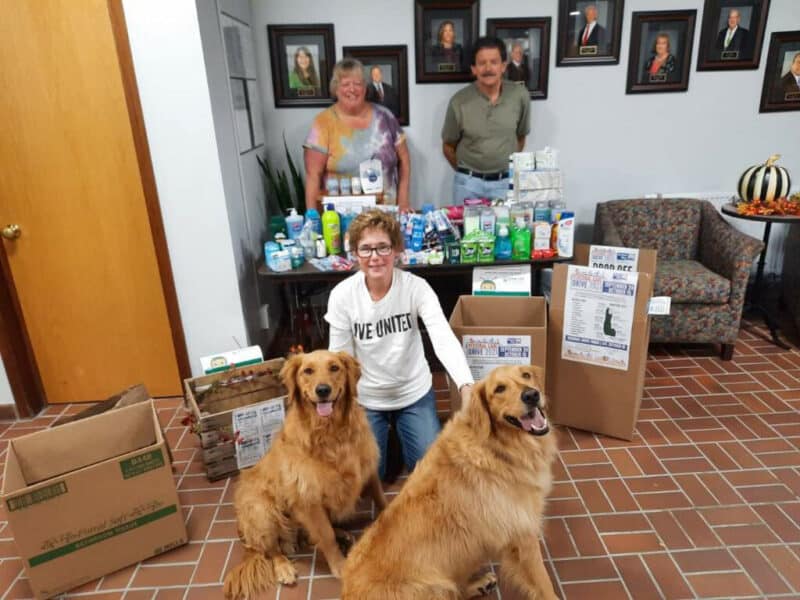 Last year, 4,490 items were collected between 30 locations and four regional drive thru events– in honor of the United Way's century of service, the goal is to double the number of items collected, but they need your help! Donate the needed items listed below to the drop off site nearest you—or your organization can host a drive by registering here: https://app.mobilecause.com/form/YC43kA
The Personal Care Drive ends on August 4th as part of the 2nd Annual Day of Caring when a team of volunteers will collect donation boxes from businesses, organizations, and clubs, and bring them to a second team of volunteers to be counted, sorted, and prepped for distribution to Cayuga County food pantries, soup kitchens, and shelters.
For the Day of Caring, the United Way aims to have 20 volunteer projects at nonprofits throughout all of Cayuga County. If you know of a nonprofit serving Cayuga County residents and may have a project within county lines that would benefit from volunteer help between 8am – 3pm on August 4th, please direct them to the United Way's registration form here: https://unitedwayofcayugacounty.org/agency-project-request/. If you are interested in volunteering at one of the projects, sign-up today by clicking here: https://unitedwayofcayugacounty.org/day-of-caring-volunteer-registration/.
Additionally, the United Way is partnering with the American Red Cross and Throop Fire Department for a Blood Drive on August 4th from 11am – 4pm. If you want to donate blood, please register here: https://www.redcrossblood.org/give.html/drive-results?zipSponsor=UnitedWayCayuga —limited walk in appointments will be available.
For more information on the Personal Care Drive, contact Julisa Stone at 315.253.9741 or jstone@unitedwayofcayugacounty.org and follow on Facebook.
For more information on the Day of Caring projects, volunteer opportunities, and blood drive, contact Kathryn Dennis at 315.253.9741 or kdennis@unitedwayofcayugacounty.org and follow on Facebook.
Personal Care Drive | Additional Information
Needed Items:
Shampoo, Conditioner, Toothpaste, Toothbrushes, Mouthwash, Dental Floss, Razors, Shaving Cream, Hand & Body Soap, Laundry Detergent, Toilet Paper, Feminine Products, Deodorant, Diapers & Wipes, and more
Drop Off Sites (as of 6/30/22):
County North:
Bayside Grocery, Fair Haven
Terry's Food Mart, Cato
Weedsport Shurfine, Weedsport
County South:
Union Springs Supermarket, Union Springs
Cayuga Lake National Bank, Aurora & Union Springs
King Ferry Corner Store, Kin Ferry / Genoa
Modern Market, Moravia
Auburn & Central Locations:
Cayuga County Chamber of Commerce
Auburn City Hall
Auburn YMCA-WEIU
Auburn Community Hospital
Aurelius Volunteer Fire Dept.
Chemung Canal Trust, Grant Ave. & Genesee St.
Thank you to Employers hosting Internal Drives (not public drop off sites):
Auburn Crane & Rigging
Beardsley Architects + Engineers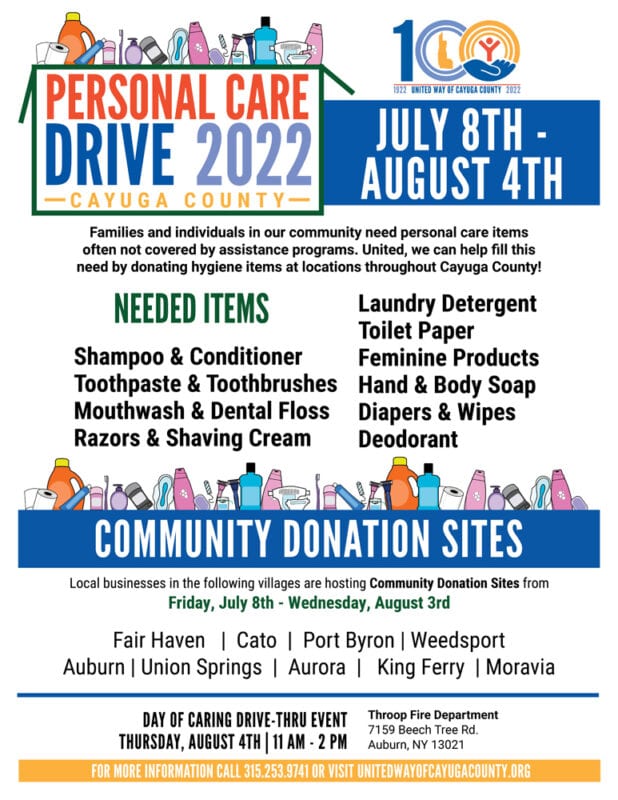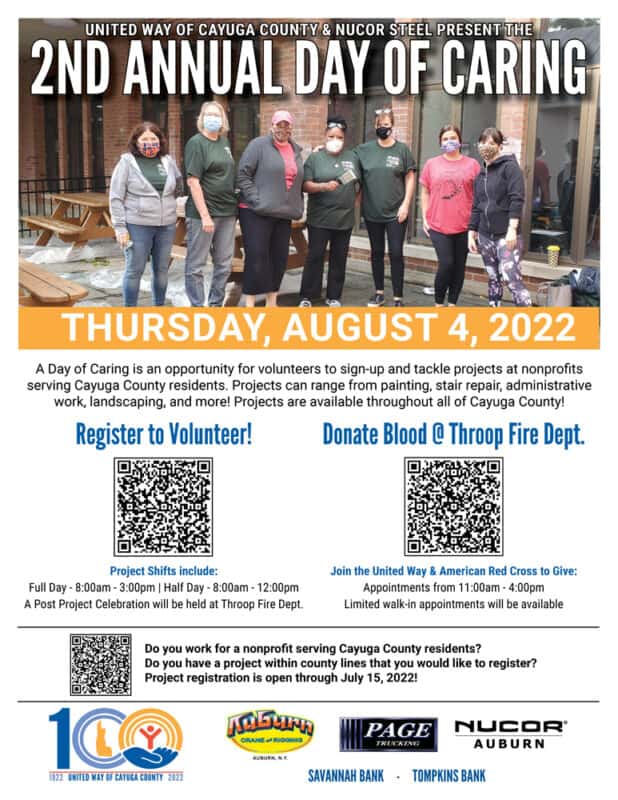 « View Member News