Rescue Mission Adopt-a-Family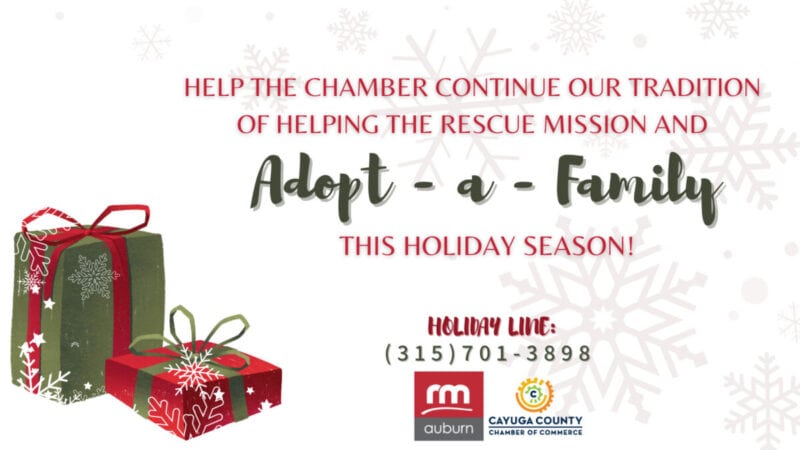 It's time to go shopping! Each year, the Cayuga County Chamber of Commerce partners with the Auburn Rescue Mission to "adopt" a family in need for the holidays. This year we are challenging our members to adopt and help us reach our goal of having every family be adopted!
Typically, at our annual holiday party, we distribute the list of items requested by the Auburn Rescue Mission families. Due to concerns related to the COVID-19 pandemic, we will not be hosting our holiday party this year but will be supporting our partner, the Auburn Rescue Mission with helping adopt families!
UPDATE: 
The Auburn Rescue Mission has successfully completed their 2021 "Adopt-a-Family" campaign connecting donors with about 50 families! THANK YOU to all who have donated! The Rescue Mission is still accepting gift cards, preferably Wegmans or Walmart, to supplement gift packages. Contact the Auburn Rescue Mission at their Holiday Line: (315) 701-3898 for details on how to make a donation. They can be dropped off at the Chamber at 2 State Street, Auburn, NY or the Auburn Rescue Mission at 51 Merriman Street, Auburn, NY.
DEADLINE IS FRIDAY, DECEMBER 10TH. 
About the Adopt-a-Family Program:
Families are asked to fill out wish lists with toys, clothes, etc. to give to the donors. Donors can call the Holiday Line: (315) 701-3898 to Adopt-a-Family. We ask that the donors do not wrap the gifts but can provide paper/tape/tags if they wish to do so. This allows the families to wrap their own children's presents.