Rescue Mission Holiday Toy Drive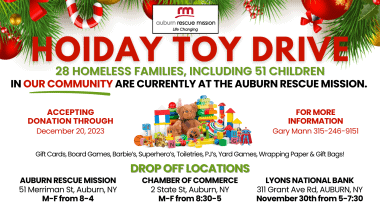 The Recuse Mission of Auburn is accepting new unwrapped donations through Tuesday, December 20, 2023 (see drop off locations below). Please considering donating to give children in need for a better Holiday Season.
There are 51 Homeless Children ranging in age from 2 – 18.
Gift ideas: Board Games, Barbie's, Superhero's, Toiletries, Yard Games, PJ's, Onesies, Pillow & Blanket Sets, and Gift Cards.
Drop off locations:
Chamber of Commerce – 2 State Street, Auburn NY
Monday – Friday 8:30-5pm
Rescue Mission of Auburn – 51 Merriman Street, Auburn, NY
Monday – Friday 8:00-4pm
Chamber of Commerce Holiday Party (Lyons National Bank) – 311 Grant Ave Rd, Auburn, NY
November 30th from 5-7:30