Economic Development
Economic Development in the Central New York Region is certainly on the rise with collaboration as the foundation. The counties of Cayuga, Cortland, Madison, Onondaga and Oswego have raised the bar for economic development. Agencies such as CenterState CEO, Operation Oswego, the Cortland Business Development Center and the Cayuga Economic Development Agency (CEDA) work separately and in part with local Industrial Development Agencies for timely and effective services.
CEDA has quickly become the one-stop for all economic development activities in Cayuga County.  CEDA provides businesses with easy access to all of the information, incentives and resources needed to start or grow in Cayuga County. For instance, CEDA can help businesses and entrepreneurs find a location or mentor, as well as assist in accessing tax incentives, low interest loan programs, technical assistance, or State grant funding. CEDA does this by working collaboratively with partners and experts throughout the region. The agency staffs the Cayuga County Industrial Development Agency (CCIDA) and the Auburn Industrial Development Authority (AIDA).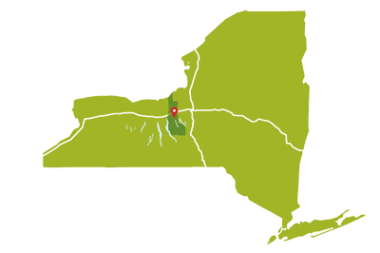 In addition, CEDA shares administrative staff with the Cayuga County Chamber of Commerce.  Since they worked towards similar goals, they formed Cayuga Strategic Solutions, a non-profit joint venture that merged the two organizations to share staff and lower operating costs. The partnership furthered CEDA's mission as a one-stop economic driver – providing all of Cayuga County's economic development resources in one location. The Auburn Chapter of SCORE "Counselors to America's Small Business," is also onsite at 2 State Street in downtown Auburn giving the location a unique advantage to start or grow a business in Cayuga County.