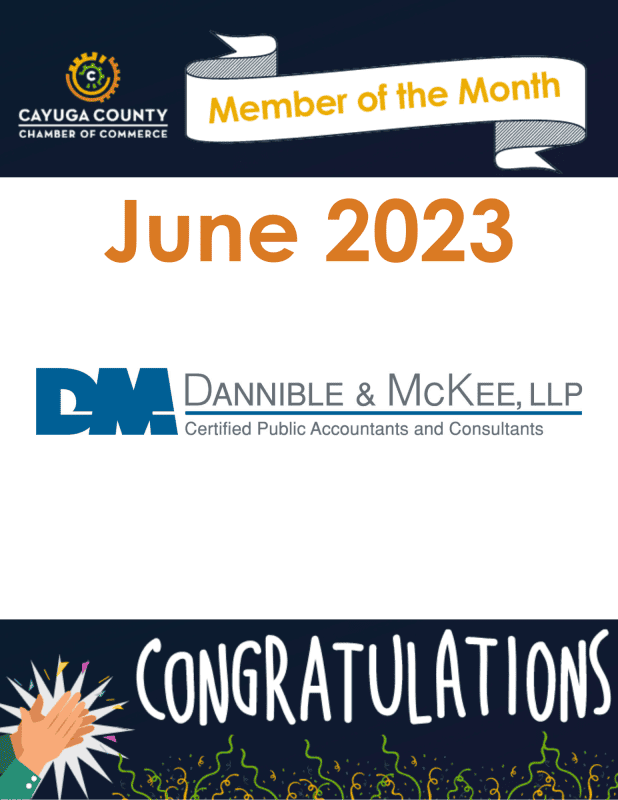 Congratulations to Dannible & McKee, LLP!
June's Member of the Month!
Dannible & McKee, LLP is celebrating their 45th Anniversary this year! Danniable & McKee is a full-service CPA firm with offices in Syracuse, Binghamton, Schenectady, and its newest office in Auburn. Founded in 1978, the team at Dannible & McKee has grown to 110 professional and support personnel, including 22 partners. Seven of these professionals, including Elaine Buffington and Alice Hoatland who are new firm partners, joining the team through the acquisition. While the company has experienced change and expansion throughout its history, the central philosophy of providing high-quality service that places the clients' needs first was cultivated early and laid the groundwork for the firm's success. They are also committed to building long-standing relationships that help people and businesses prosper. They get involved in community, donating time and resources to the endeavors that help their communities flourish.
Join for your link to...
Relationship marketing is one of the key methods to generate and sustain business. Our networking events provide Members with an environment in which to build relationships and conduct business with one another.

Learn More

The Chamber's publicity, community recognition, and marketing exposure venues afford opportunities for Member businesses to engage in out-reach efforts to hundreds of community business leaders.

Learn More

The Chamber is dedicated to Member success. Our Programs and Services offer various seminars and workshops that can be strategically utilized to enhance skills, promote problem solving, and motivate greater commitment.

Learn More