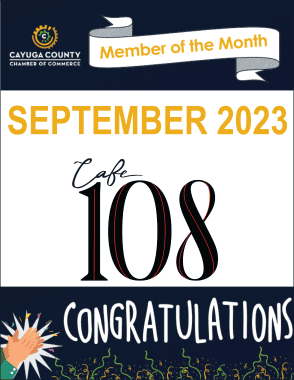 Congratulations to Cafe 108 September's Member of the Month!
Cafe 108 was created to support the nonprofit Auburn Public Theater (APT) and its mission to bring affordable access to the arts and arts education for everyone. One hundred percent of the cafe's profits go to APT. At the same time, Cafe 108 nourishes the community with healthy food, lovingly curated by our staff. And all our packaging products are eco-friendly. We invite you to join us in this collaboration by enjoying our food and supporting the arts. Your patronage helps insure a future for artists and the community. It's a menu with a mission!
Join for your link to...
Relationship marketing is one of the key methods to generate and sustain business. Our networking events provide Members with an environment in which to build relationships and conduct business with one another.

Learn More

The Chamber's publicity, community recognition, and marketing exposure venues afford opportunities for Member businesses to engage in out-reach efforts to hundreds of community business leaders.

Learn More

The Chamber is dedicated to Member success. Our Programs and Services offer various seminars and workshops that can be strategically utilized to enhance skills, promote problem solving, and motivate greater commitment.

Learn More