IGNITE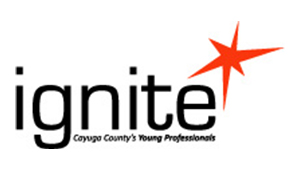 IGNITE is a group of young professionals dedicated to connecting people and ideas and offering other young professionals the opportunity to become involved in their community.
It begins with Young Professionals!
We work to grow a membership of diverse individuals – to network and inspire creativity, which will aid in investment in our region by young professionals.
I joined IGNITE to get more involved and I now serve on two local boards. I have gained network experience I can't get anywhere else." —IGNITE member
IGNITE will…
Connect YOU to other individuals with similar interests and ideas.
Engage YOU in what is happening locally, politically, socially, and culturally.
Involve YOU in the community, by providing board service opportunities, networking and volunteerism.
Find YOUR place in the community.
"IGNITE is a diverse group on spirited and well-educated individuals who care about their community. They are Cayuga County's future and represent a wide cross-section of the region's talent and demographics." – Susan Dwyer
Get Involved
Follow us on Facebook at Facebook.com/ignitecny
Join us online at ignite-cny.org. Your annual membership will get you free participation in IGNITE events, a souvenir IGNITE item, and an IGNITE membership card good for discounts at various local businesses.
Email us at info@ignite-cny.org
Visit our monthly social gatherings every second Tuesday, and other special events throughout the year.