Office Assistant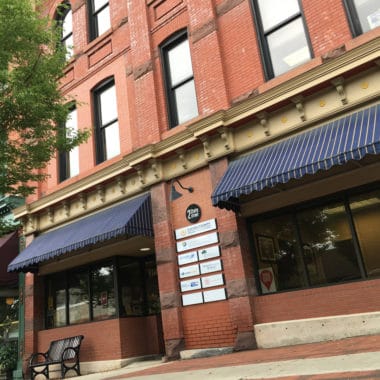 The Office Assistant is a part-time, administrative position with flexible scheduling. This position serves Cayuga Strategic Solutions (CSS) and it's affiliate organizations, the Cayuga County Chamber of Commerce and Cayuga Economic Development Agency. The Office Assistant's responsibilities include:
Board coordination and minute taking
Administrative duties, such as scheduling, communication, record keeping and office supply management
Payroll processing
Credit card processing and cash management
Organizing financial information (incoming bills, statements, payments, etc.) to assist a third party bookkeeper
Some bookkeeping (invoicing, bill pay, or deposits) as needed.
Reception
POSITION TITLE:  Office Assistant
REPORTS TO:         Executive Director
SCHEDULE:            Part-time (20-22.5 hours per week)
LOCATION:             2 State Street, Auburn, NY
The ideal candidate for the Office Assistant position would possess or demonstrate:
Attention to detail – this is a must!
Ability to be well organized and maintain accurate records
Strong written and oral communication skills
Ability to manage time and prioritize multiple tasks
Ability to maintain professional demeanor at all times
High level of confidentiality required due to both financial and human resource information handling
Some scheduling flexibility around large events
CSS offers a friendly and flexible work environment, as well as an employee assistance program, professional development opportunities, paid holidays, paid time off after six months, and a 401k match after one year.
EQUIPMENT, MACHINES AND SOFTWARE USED:
Basic computer skills, including email, internet navigation, word processing, database management, and/or data entry.
Ability to use software programs such as Microsoft Office and Adobe required, as well as some Quickbooks experience preferred.
General office equipment is used such as a computer, printer, photocopier, telephone, fax machine, scanner, and calculator.
POSITION QUALIFICATIONS:
Candidates for this position must possess a high school diploma or equivalent and some relevant office experience.  4+ years of experience may be substituted. Candidates with experience in bookkeeping and office management will receive high priority.
ABOUT CAYUGA STRATEGIC SOLUTIONS:
Cayuga Strategic Solutions ("CSS") is a joint venture of and the employing entity for the Cayuga Economic Development Agency and Cayuga County Chamber of Commerce, as well as the Cayuga County Chamber of Commerce Foundation ("affiliate organizations"). CSS currently has a team of nine working to engage, educate, and support the Cayuga County business community with the goal of creating a more vibrant business environment that encourages growth and provides a variety of opportunities to all residents and visitors. CSS offers a friendly and flexible work environment, as well as an employee assistance program, professional development opportunities, paid holidays, paid time off after six months, and a 401k match after one year. Located at 2 State Street in downtown Auburn, CSS is centrally located near restaurants, entertainment, and services.
DETAILED POSITION RESPONSIBILITIES:
General Administrative Duties
Board Assistance

Maintain minutes for affiliate organization boards, as well as board committees as needed
Prepare packets for each board meeting and distribute one week in advance of meetings
Prepare board and committee schedules annually and update periodically
Prepare orientation handbooks for incoming board members

In coordination with Executive Director schedule and set agendas for monthly staff meetings
Assist with preparation and staffing of events, as needed
Corporate Record Management- Maintain corporate records for all affiliate organizations
Reception Coverage

Answer incoming calls for all affiliate organizations and direct as appropriate
Act as welcome center for incoming appointments or walk ins for all affiliate organizations
Manage reception area for cleanliness and attractiveness
Sort and distribute incoming mail for all affiliate organizations and tenants

Order office supplies and coordinate inventory management for all affiliate organizations
Finance
Collect and organize all incoming financial documentation, including invoices, payments, statements, etc. in order to prepare for a third party bookkeeper
Transport deposits to the bank as necessary
Payroll processing in coordination with payroll services, including tracking paid time off
Communicate with bookkeeping and auditing entities, and relay all transaction information and adjusting entries for timely preparation of financial statements
Pay bills and process deposits, along with associated bookkeeping, as needed in between visits from bookkeeper
Executive Assistance
Building Support

Communicate with building tenants
Identify and schedule service for building related maintenance and repairs as needed
Track building information, such as key and fob assignments

Scheduling

Manage the conference room calendar and room setup for scheduled meetings
Track/monitor deadlines for organizational contracts, leases, reporting, and other obligations

Communication management for Executive Director and staff

Communicate messages and draft written communication on behalf of and with direction from the Executive Director
Manage address books, mailing databases, and key contact information
Other
Perform all other duties as assigned
TO APPLY:  Forward submit cover letter and resume, or e-mail to tverrier@cayugaeda.org. Applications will be reviewed as they are received and the position will remain posted until the right candidate is identified. Applicants can expect to receive communication from Cayuga Strategic Solutions (CSS) regarding the status of their application within ten business days of submission.
« View all