Workforce Development 101 for employers

This event has passed. Check back for the future dates.
The Cayuga Economic Development Agency, in partnership with Cayuga Works and Cayuga Community College, will host a panel presentation and round table discussion by the workforce development resource providers for local businesses.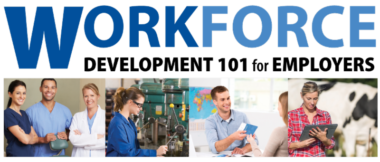 You will learn about the programs and services available to assist with the following:
–          Finding employees
–          Training employees
–          Available grants
–          Tax Credits
–          Apprenticeship Programs
–          Veterans Initiatives & more!!
Those who should attend are business owners, HR staff, school counselors, community decision makers & elected officials. 
Stay tuned for the panel reveal!!

This event is FREE, and seating is limited. It will be held in the CCC Student Lounge. Please register now to reserve your spot.
For questions or additional information, please contact Maureen Riester at CEDA.