Taste NY Auburn Regional Market-Vendors Wanted-Fees Waived!!

This event has passed. Check back for the future dates.
Applications for the brand new Taste NY Auburn Regional Market are now available.  The City of Auburn has announced that it will host a weekly summer market every Saturday beginning June 8, 2019 through October 26, 2019.  This new Market will be held in Downtown Auburn on the campus of the new NYS Equal Rights Heritage Center in partnership with the Taste NY program, hours will be 9am-2pm weekly. 
Each week there will be live music, artisans, produce & plants, food & beverages. The event will be outdoors at the Heritage Center, 25 South Street, in downtown Auburn.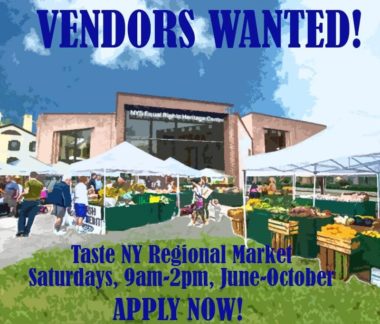 We are looking for farmers, food trucks, food vendors, producers, artisans, craft breweries, wineries, and the like to join our inaugural Saturday morning market series.
For the first year, vendor fees have been waived; the event will be held from 9am to 2pm from June 8 through October 26 (21 weeks). There is no commitment required for every Saturday, but we do ask vendors to select dates of participation on the included checklist.
The application is attached and I am more than happy to answer any questions. Thank you for your time and interest!
For more information please contact:
Courtney Kasper
Visitor Experience Manager
NYS Equal Rights Heritage Center
25 South Street, Auburn, NY 13021
(315) 258-9820
Farmers, Food and Beverage:Calling all farmers, food trucks, food & beverage vendors… applications are now open for our Saturday Markets! (See the link below)
Taste-NY-Auburn-Market-Food-Bev-Vending-Application-2019.pdf
Artisans:Are you an artisan interested in showcasing your work at our Saturday Markets? Applications are now open! (See the link below)