Memorial Day Parade – Veteran's Service – Duck Derby – Food Truck Rodeo

This event has passed. Check back for the future dates.
Memorial Day fun starts at 11AM with the City's annual parade that begins on East Genesee Street and continues westwards down Genesee Street to its end point, at Veteran's Memorial Park. After the parade, there is a wreath laying ceremony that will take place at approximately noon, and an Auburn Civic Band performance. Over 500 marchers participate in the parade annually, as well as floats, classic cars & fire trucks.
For more information about the parade, contact Kim Bauso email kbauso@auburnny.gov or 315.255-4737.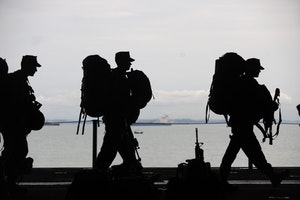 After the Veteran's Ceremony, head to Market Street Park for the Auburn Kiwanis 31st Annual Duck Derby. Line up along the fence line and see thousands of little yellow ducks released on Owasco River, and for $5 buy your chance to win the many prizes awarded. The finish line is at the North Street Bridge next to Auburn Police Department; and awards are announced immediately afterward. The grand prize winner takes home $3000, and nine other ducks will be awarded more cash, local entertainment tickets & season
passes.
Duck Derby tickets can be purchased at the Knight of Columbus, Silbert Optical, UPS Store, YMCA-WEIU, AmeriCU credit union & more. After expenses & prizes are paid, all of the net profit supports a variety of programs in Cayuga County, with an emphasis on benefitting area youth, people with disabilities, and the elderly. For more information visit: http://kiwanisclubofauburnny.org/.
During the Derby, enjoy DJ music with Jane Stebbins of Good Time Charlie's Mobile Entertainment. She will be playing tunes under the band shell in Market Street Park. From 11AM – 2PM, the Downtown Auburn BID & the City host a Food Truck Rodeo on Loop Road between North and Genesee Streets. Multiple vendors will be on hand offering a wide variety of dishes & sides. They include Miss Alice's Mad Hatter Cotton Candy, Potatoes & Molasses, Tonzi's Catering Co. and Wolf's Patio Pizza. While you have lunch, watch a special drum performance by members of DownBeat Percussion, the official drumline for the Buffalo Bills. There's lots of free fun going on in downtown Auburn, so please come & enjoy!