FLGIC Friday: Money to Match your Mission: Identifying and Applying for Grant Funds

This event has passed. Check back for the future dates.
Finding the right funding match is key to getting the money you need to fulfill your mission. To do this, you must know how to match your needs to funder priorities as you research and apply for grants.
By asking yourself a few key questions before you start, you'll make the grant research and proposal writing processes more efficient and successful. In addition to discovering what these questions are, you'll also learn the seven basic elements of most proposals and how to integrate them into a successful proposal.
Topics covered: Grant Research; Proposal Writing
Upon completion of this webinar, you should be able to: 
Determine if your organization is prepared to begin applying for grant funding

Identify the questions that need to be answered prior to beginning research

List and describe the 7 major elements of most grant proposals

Describe different approaches to conducting grant research

Explain the characteristics of a good prospect and identify next steps for pursuing them
This event is free and open to the public.
Seating is limited. Register today!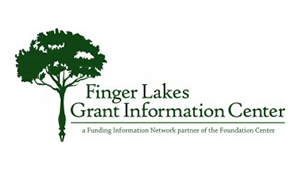 Through the Finger Lakes Grant Information Center, you can…
gain access to the Foundation Center databases listing of over 140,000 foundations and over 4 million grants.

find answers to your questions about statistics that address issues of local concern.

attend the workshops, forums, and panels of interest to you, scheduled throughout the year, on topics ranging from fundraising to social media to nonprofit sustainability and board governance.

meet with our Grant Supervisor to find the answers to your questions regarding access to information that will help you be successful in your pursuit of funding.
For More information on FLGIC click here.