FLGIC Foundation Friday: Your Board and Fundraising

This event has passed. Check back for the future dates.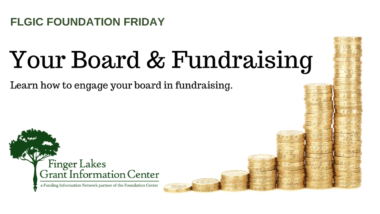 FLGIC Foundation Friday:
Your Board and Fundraising
About:
Learn how to engage your board in fundraising.
This class helps you think through the process of getting your board involved with fundraising. What we will cover:
The role of your board
Why board members may be reluctant to fund raise and how to overcome these concerns
Ways the board can participate in fundraising activities
Tips for strengthening your fundraising board
Plus, discussion afterwards from local non-profits who have gone through this process!
Featuring:
Caroline Herbert
CAROLINE HERBERT has been teaching courses in fundraising, grants research, proposal writing, and related topics since joining Foundation Center in 1998. As an instructional design manager, she is responsible for designing, implementing, and delivering the Center 's training programs online. Her focus is on creating optimal learning experiences for nonprofit professionals in the virtual environment.
____________________________________________________________________________________
Through the Finger Lakes Grant Information Center, you can…
gain access to the Foundation Center databases listing of over 140,000 foundations and over 4 million grants.

find answers to your questions about statistics that address issues of local concern.

attend the workshops, forums, and panels of interest to you, scheduled throughout the year, on topics ranging from fundraising to social media to nonprofit sustainability and board governance.

meet with our Grant Supervisor to find the answers to your questions regarding access to information that will help you be successful in your pursuit of funding.
For More information on FLGIC click here.